HUSQVARNA Riding Mower R322T (967032103)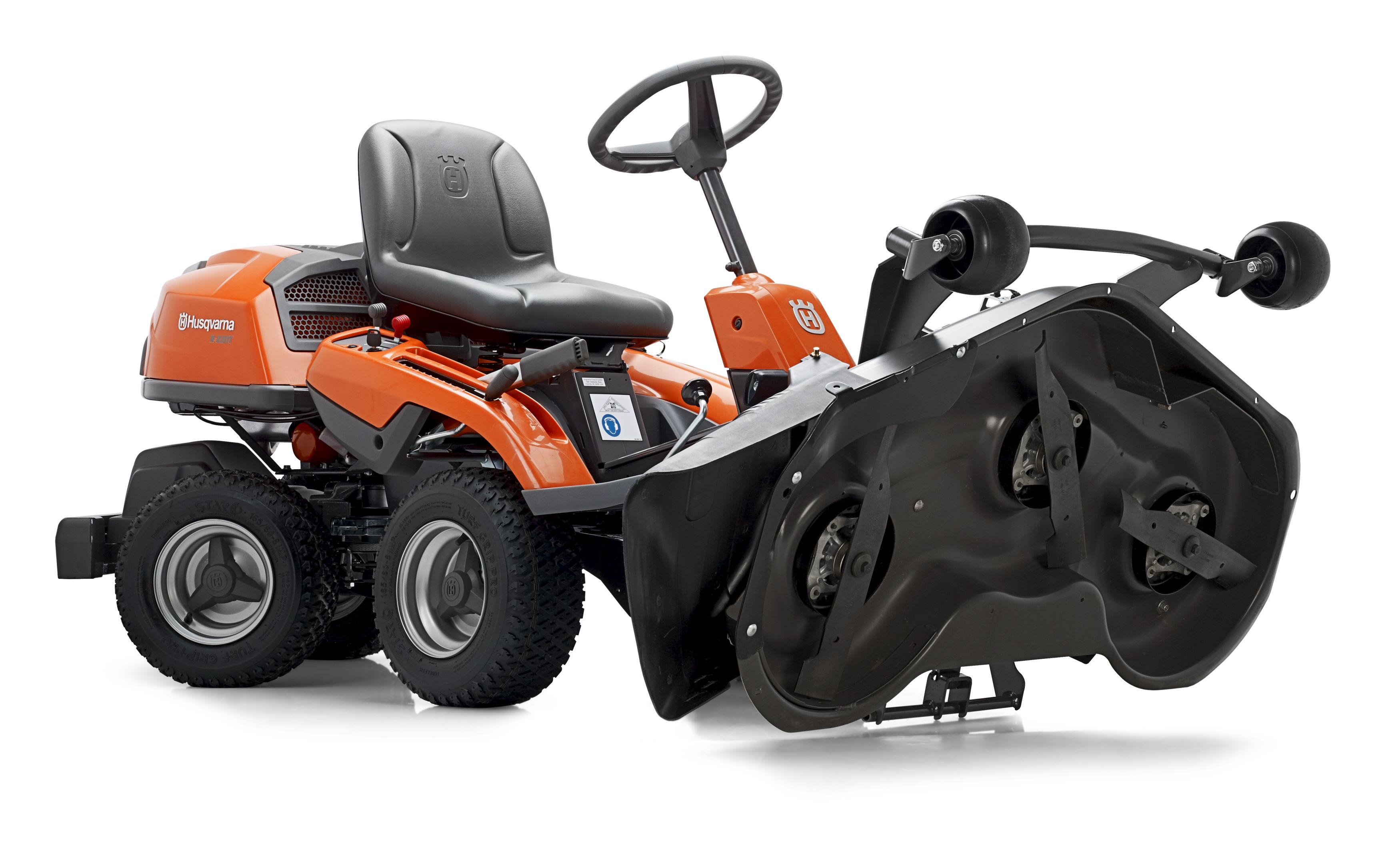 *** May not be exactly as illustrated ***
SALE PRICE: Can$5,999.00
(LIST PRICE: Can$6,499.99)


HUSQVARNA Riding Mower R322T (967032103)
HUSQVARNA
Availability
Call Edmonton
Call Spruce Grove
Model
967032103
Engine
Briggs & Stratton 20 hp
Transmission
Hydrostatic, Pedal
Cutting Width
44" Stamped / Reinforced deck
Discharge Type
Combi Deck Mulch, Rear Discharge
Description
Powerful and versatile Rider with twin-cylinder engine and All-Wheel-Drive. Optional Combi and side ejection cutting decks, offer first-class results. Suitable for landowners who demand superior efficiency, maneuverability and perfect results all year round. The articulated steering system and front-mounted cutting deck enables intuitive operation, excellent mowing accessibility and great overview of your working area. All-Wheel-Drive remarkably increases and secures handling on uneven, wet and slippery areas as well as on slopes. Can easily be fitted with a number of attachments such as broom, flail mower, snow blade and snow thrower, for maximum output throughout the year.
Key Features
Articulated steering: The unique articulated steering system allows the rear pair of wheels to swing in underneath the machine. The result is superior manoeuvrability with a minimum turning radius at full lock.
All-Wheel-Drive (AWD): All-Wheel-Drive (AWD) ensures traction on uneven, wet and slippery areas and slopes. AWD automatically adjusts the traction on all wheels depending on situation and ground condition.
Front-mounted cutting deck: Front-mounted cutting deck for excellent accessibility into corners and under bushes, park benches etc.
Service position: Service position on the cutting deck facilitates cleaning and service.
Engine
Motor/engine manufacturer: Briggs & Stratton
Engine name: Endurance Series V-Twin
Net power at preset rpm Energy: 12.6 kW
Net power at preset rpm: 3000 rpm
Cylinder displacement: 656 cm³
Cylinders: 2
Engine cooling: Air
Generator: 16 A
Power/fuel type: Gasoline
Fuel tank volume (with reserve): 12 l
Oil filter: Yes
Battery
Battery type: Lead/Acid
Battery capacity: 24 Ah
Battery pack weight: 15.87 lbs
Cutting deck
Uncut circle: 30 cm
Cutting width, min: 104.14 cm
Cutting width, max: 121.92 cm
Optional cutting decks: Combi 103, Combi 112, Side discharge 48
Cutting deck type: Stamped
Cutting deck material: Steel
Cutting height max: 75 mm
Cutting height min: 25 mm
Blade engagement: Automatic
Blades: 3 pcs
Powder-coated cutting deck: Yes
Dimensions
Base machine, length: 202 cm
Base machine, width: 89 cm
Base machine, height: 115 cm
Tyre dimensions, front: 170/60-8
Tyre dimensions, rear: 170/60-8
Wheelbase: 88.7 cm
Weight: 259 kg
Gross weight towed: 125 kg
Drive system
Transmission type: Hydrostatic
Transmission manufacturer, rear: Tuff Torq
Drive method: Pedal-operated
Speed forward max: 9 km/h
Speed reverse max: 9 km/h
Transmission manufacturer, front: Tuff Torq
Transmission model, front: KTM10L
Transmission model, rear: K574
Equipment
Hour meter type: Digital with pre-programmed service intervals
Seat material: Vinyl
Seat suspension: Yes
Seat back height: High
Foldable seat: Yes
Steering wheel type: Comfort
Parking brake, type: Disc
Vibration
Vibration level steering wheel: 2.5 m/s²
Vibration level seat: 0.7 m/s²
NOTES:
(With Combi 112 Deck, CA Only) - 967 03 21-03