TORO 32 inch TimeCutter SS 3225 (74710)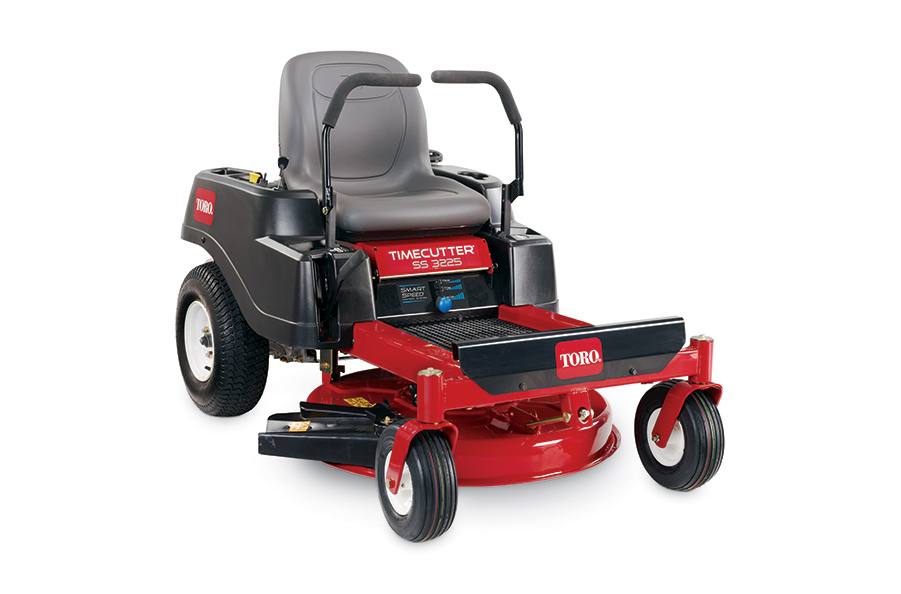 *** May not be exactly as illustrated ***
SALE PRICE: Can$2,999.00
(LIST PRICE: Can$3,899.00)


TORO 32 inch TimeCutter SS 3225 (74710)
TORO
Availability
Call Edmonton
Call Spruce Grove
Model
74710
Engine
Toro 452cc
Transmission
Dual Hydrostatic
Cutting Width
32 in. (81 cm)
Discharge Type
Side; Optional: Bag, Mulch
Description
The TimeCutter® SS3225 zero turn riding mower is powered by a premium Toro® 452cc single-cylinder engine. It features a compact 32 inch wide, 4 inch deep, top discharge deck design with convenient washout port. An 18 inch extra-tall seat provides a smooth and comfortable ride. You'll find it easy to maneuver in tight spaces, plus the exclusive Smart Speed® control system allows you to choose from 3 speeds giving you greater control when trimming, towing attachments and mowing.
Highlights
Powerful 452cc Toro Engine
32" (81 cm) Mowing Deck is perfect for mowing in tight spaces and through gates
3-Year Limited Warranty - No Hour Limitations
Smart Speed® Control System has three ground speed ranges (Trim, Tow, and Mow) giving you greater control of speed and maneuverability for cutting grass and pulling attachments).
Features
Toro 452cc Engine: The Toro 452cc engine provides dependable performance and reliable starting with full pressure lubrication and spin-on oil filter.
Heavy-Duty Rear Engine Guard: This heavy-duty steel guard protects the engine from branches and debris as you maneuver around your lawn.
3-Gallon (11.4 Liter) Fuel Capacity: All TimeCutter riding mowers feature a large 3-gallon (11.4 Liter) fuel tank for more mowing with fewer fill-ups. Knowing when to fill up is simple thanks to the translucent tank, which also helps to prevent overfilling.
32" (82 cm) Mowing Deck: Toro's four inch (10 cm) deep, top discharge deck design provides superior cutting performance in all conditions. Create your own natural fertilizer by adding a Recycling Kit® or make yard clean-up a snap with an optional Twin Bagging system.
2015 Washout Ports: Deck washout ports create a pressure washer under your deck providing quick cleaning, maintaining optimum airflow for optimum cutting performance. 50" (127 cm) deck is pictured.
Heavy Duty 10 Gauge Unibody Steel Frame: The lower the gauge, the thicker the metal. That is why we use heavy duty 10 gauge steel. The unibody steel frame provides the optimal balance in rigidity and flexibility for quick, highly maneuverable mowing conditions.
Hitch Kit Standard: Hitch kit comes standard on all TimeCutter models for pulling lawn and garden attachments. (Attachments sold separately.)
Dual Hydrostatic Drive System: Independent hydrostatic drive systems provide responsive maneuverability and zero turning capabilities. These independent drives are anchored to Toro's unibody frame and reinforced with a cross member for lasting durability and performance.
Anti-Vibration Floor Mat: This rubber floor mat is a great addition to your TimeCutter mower. Reduces vibration and dampens deck noise during mowing.
Smart Speed® Control - Trim, Tow, Mow: Toro's Smart Speed® control system lets you choose from three ground speed ranges for optimal performance. Use low TRIM range to trim closer for maximum time savings, choose medium TOW range for towing attachments, or select high MOW range to mow large open areas and finish quickly.
Save on Average 45% of your MowingTime: Cut your mowing time almost in half*, less work for you, your mower and have more free time. Learn More *Time savings by yard size are from 2008 - 2012 survey results for Toro residential zero-turn mowers, as reported by owners.
2015 Automatic Parking Brake: Automatically engaged when the control arms are moved outward. Simplifies operation by eliminating a separate parking brake.
Non-Slip, Easy-to-Clean Floor Pan: The pierced floor pan is perfect for homeowners who like their mower to look as nice as their lawn. Simply hose down the floor pan after each use and keep your TimeCutter looking as good as new. The non-slip pierced extrusions also provide an additional measure of safety.
2015 18" Extra Tall Seat: When you're mowing for an extended period, there's no substitute for a good seat. The 18" extra tall seat offers permium support during longer mowing sessions.
3-Year Limited Warranty - No Hour Limitations: Product is warranted against defects in materials and workmanship for three years without an hour limitation. See complete warranty details at Toro.com/warranty.
Hourmeter: Keep your mower in peak condition with an hourmeter for determining when to service.
Specifications
Engine: 452cc Toro Engine
Fuel Capacity: 3 gal / 11.4 L
Cutting Width: 32" / 81 cm - 13 ga. 1 blade
Blade Tip Speed: 18,959 ft/min
Cup Holder: Standard
Deck Design: 32" (81 cm) - 13 ga. 1-blade
Engine Displacement: 452cc
Ground Speed: Mow(F/R) 7 mph/3 mph, Tow(F/R) 5.5 mph/2.4 mph, Trim (F/R) 4 mph/1.7 mph
Height: 40.7" / 103 cm
Height of Cut: 1.5" / 3.8 cm - 4.5" / 11.4 cm
Hour Meter: Standard
Length: 71.8" / 182 cm
Seat: 18" / 45.7 cm Extra-Tall
Steering Controls: Dual Wrap Around Levers
Tank Capacity: 3 Gallons (11.3 liters)
Tires: 11" x 4" (27.9 cm x 10.2 cm) Front, 18" x 6" (45.7 cm x 15.2 cm) Rear
Tool Box: Standard
Transmission: Dual Hydrostatic
Washout Port: Standard
Warranty: 3-Year Unlimited Hours
Width: 35.3" / 90 cm - Storage Dimensions (W x L x H) 35.3" x 71.8" x 40.7" (90 cm x 182 cm x 103 cm)
NOTES:
*See retailer for warranty details.