FUEL - ASPEN 4 CYCLE 5 L (BLUE)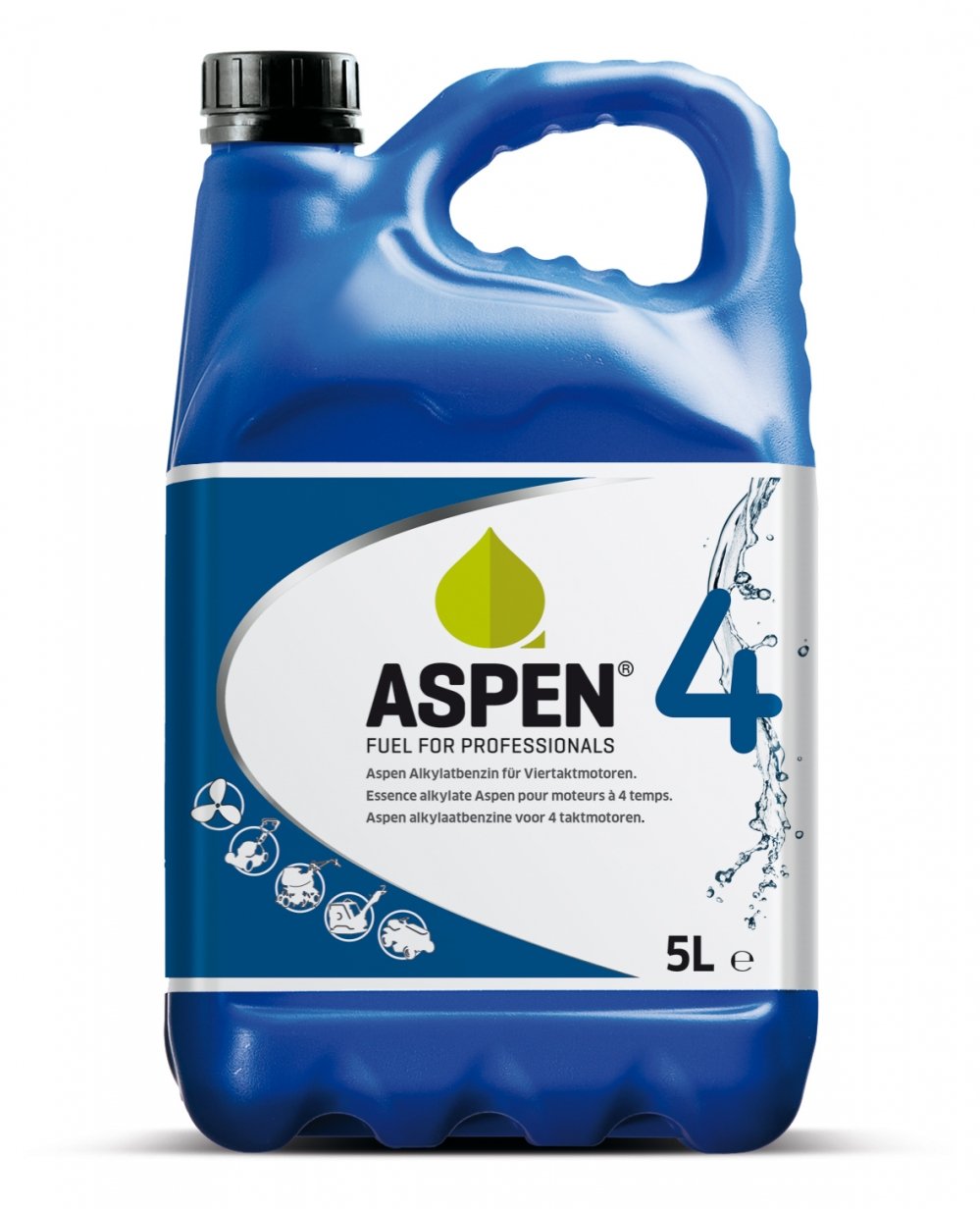 *** May not be exactly as illustrated ***
SALE PRICE: Can$39.99
(LIST PRICE: Can$52.99)


FUEL - ASPEN 4 CYCLE 5 L (BLUE)
ASPEN FUELS
Availability
In Stock >10 Edmonton
In Stock 3 Spruce Grove
Model
4T005
Aspen Alkylate Fuel
Aspen Alkylate petrol is a Swedish manufactured fuel that has been around since 1988 where it has become an essential product in the Swedish handheld machinery market. Anglo American Oil Company began distributing Aspen around 8 years ago, and more recently, with people starting to take notice of their health and the products, it is starting to become a staple fuel for many professional and personal small engined machinery owners and users here in the UK.
Aspen is available as Aspen 2 - a 2-stroke pre-mixed high performance ethanol free alkylate fuel and as Aspen 4 - a 4-stroke alkylate fuel and we are pleased to announce the launch of the NEW Aspen 2 with Full Range Technology - one fuel, for all brands that is blended at 50:1. It is already proven that Aspen Alkylate fuel is great for our machines and health, so this new development is even better news for users!
Aspen 2 was introduced in 1988 and since then manufacturers, Aspen Petroleum AB, have supplied more than 300 million litres, to more than 20 countries, to customers who appreciate engines that are easier to start, run better and are more reliable and at the same time emit dramatically less toxic emissions. Aspen 2 was the original and the world's best-selling ready-mixed alkylate petrol, but Aspen Petroleum AB took the original formula and, after years of testing, enhanced it for the better!
Full Range Technology is the greatest innovation for the company since Aspen 2. With all the benefits of the original Aspen 2 and more besides, it is suitable for all air- and water-cooled engines that run on a 50:1 oil-petrol mixture. The new Aspen 2 with Full Range Technology has been developed for new engine technology that meet increasingly strict emissions standards, but is also just as good for older engines.
Aspen 2 with Full Range Technology protects engines better; from machines with high combustion temperatures, to those running at a lower temperature, such as hedge cutters, and every engine in-between so they call it a 'One for all'.
One fuel for all brands and a whole range of machines
Full Range Technology makes both new and older engines run better. Reliability is improved and the need for servicing outside recommended service schedules are reduced. Engine acceleration is better and all internals of the engine will be even cleaner. But how do we know this? Well, it took years to develop this product, with feedback gathered from 10 million litres used in over 10,000 machines for over a thousand days; so it has proven its worth. We are confident that Aspen 2 FRT is by far the best and cleanest 2-stroke fuel on the market today.
Full Range Technology reduces carbon and soot build-up in the combustion chamber and exhaust port by 22% at high engine temperatures and 11% at low temperatures. Machines are easier to start and engine acceleration is improved by up to 6% thanks to the new oil formulation. Furthermore oil leakage decreases and the air filter stays clean for longer. Aspen 2 FRT is free of ash and double-bonded hydrocarbons (solvents) which result in extremely clean combustion chambers at the same time as optimising lubrication and achieving maximum performance. Machines that combine 2-stroke and 4-stroke technology will also benefit from the extremely clean burning Aspen 2 Full Range Technology.
The oil in Aspen 2 Full Range Technology has been selected and developed for the future. It is completely synthetic with as much as 60% renewable content, is biodegradable (over 80% degraded within 28 days) and free from both ash and solvents. The oil burns completely leaving virtually no carbon deposits in exhaust ports or combustion chambers and has optimum lubrication characteristics at all engine temperatures. Aspen 2 FRT also reduces toxic hydrocarbon emissions by 99% compared to normal pump fuels when used in 2-stroke machinery.
The main difference is that the extremely low build up of carbon in the current Aspen 2 will be even less in Aspen 2 FRT and that the 2-stroke oil's lubricating properties have been improved at lower combustion temperatures, resulting in a true 'One For All' fuel for 2-stroke engines.